Main Content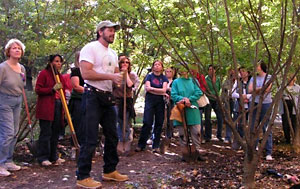 Agriculture is a thriving industry in Bergen County because it has diversified to meet changing consumer needs. Bergen County growers are producing a wide array of ornamental plants as well as vegetables and orchard fruits.
Joel Flagler, Bergen County Agriculture Agent, places high priority on serving professionals in all of the many facets of Bergen County's ornamentals industry. He provides training and continuing education for professionals in landscape contracting, tree, and turf maintenance. This continuing education is a requirement for all professionals who handle pesticides and helps them to keep their state licensing current. We also provide educational seminars for the Bergen County Parks Department employees.
Educational programs are provided to all residents without regard to race, color, national origin, gender, religion, age, sex, disability, political beliefs, sexual orientations, marital or family status.