Main Content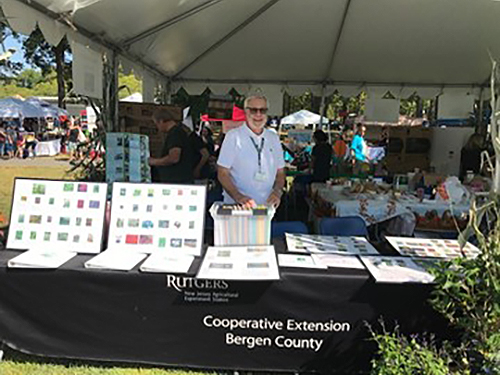 Our Rutgers Master Gardener Program is extremely popular and productive. These dedicated volunteers, trained by Rutgers University faculty and staff, are at work throughout the County's Parks and municipalities. They operate a Garden Helpline April through September. Valuable advice is given to homeowners on how to solve garden & landscape problems by applying Integrated Pest Management tactics to minimize the use of pesticides.
Bergen County Master Gardeners (RMGs) also deliver Horticultural Therapy programs in hospitals, nursing homes, mental health facilities and schools. Regular volunteer sites for RMGs include: Bergen New Bridge Medical Center; Butterfly and Native Garden at Overpeck Park; Davies Arboretum & Wildlife Preserve; Garrettson Forge & Farm, Hackensack River Greenway Through Teaneck; The Hermitage; McFaul Environmental Center; New Jersey Botanical Gardens; NY/NJ Trail Conference Headquarters; Teaneck Creek Conservancy; Thielke Arboretum; Van Saun County Park; Washington Spring Garden in Van Saun Park.
RMGs are recognized as some of the best ambassadors for Rutgers University and the NJ Agricultural Experiment Station, which is part of Cooperative Extension. These skilled volunteers have access to the latest technology and problem-solving information from the University, and from all the NJAES research farms throughout the state. Everything the RMGs share with the public is unbiased and backed by data. We promote no product or particular service-providers; just the facts that help consumers make their own informed decisions. This is particularly valuable for managing pests and challenges in the home garden and landscape.
Each year, RMGs participate at Earth Day events and environmental fairs throughout the county, and present educational displays in the Rutgers Master Gardener tent at the annual Bergen Fall Harvest Festival. RMGs also join in at the annual Earth Day planting organized by the Bergen County Soil Conservation District & Bergen County Environmental Council at various sites throughout the Bergen County Parks System.
Have a Lawn or Garden Question?
Call the Rutgers Master Gardeners of Bergen County Helpline:
Service from April–September, Monday through Thursday, 10 a.m. to 12 p.m.
201-336-6783
or
201-336-6784